Expect Us. Are you ready? Come along with us.  Bring a tent. #SEP17 #USDOR
Shadowy group of 'hactivists' targets big US websites for Operation Payback as firms face web onslaught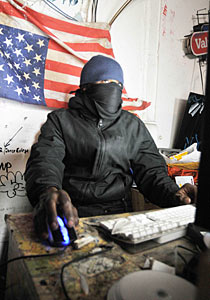 A 'hacktivist' claiming to be participating in Operation Payback, in New York. Photograph: Sipa Press/Rex FeaturesIt is being described as the first great cyber war: an online collision between some of the world's greatest brands and a little-known, poorly understood group of "hacktivists" trying to bring down companies from the comfort of their bedrooms.
The hacker group behind the attacks goes by the name ofAnonymous. This week it declared its goal to be "infowar" and said: "In war, there are bystanders that get hit."
As the name suggests, Anonymous is not a group with high-profile members. Its composition is multinational: a 16-year-old Dutch boy was arrested this week on suspicion of bringing down the websites of MasterCard and Visa in support of WikiLeaks. The family computer he is suspected of using has been seized.
Although its attacks seem co-ordinated, it is not clear who is leading the group and its members have only the faintest of ideas about its goals. Its most audacious effort, an attempt to bring down Amazon, was thwarted after members could not agree which site to attack next.
Described by one insider as "complex, puerile, bizarre and chaotic", Anonymous propelled itself into the public consciousness this week with a succession of attacks on major US institutions – but it has been striking fear into the heart of Scientologists and copyright enforcement agencies for years. Earlier this year, members forced the Ministry of Sound websites offline after the dance music group tried to prevent piracy of its catalogue. [more]
A message from Anonymous to The Zeitgeist Movement and The Venus Project
We are expecting you to join us.