See on Scoop.it – Monsanto Sucks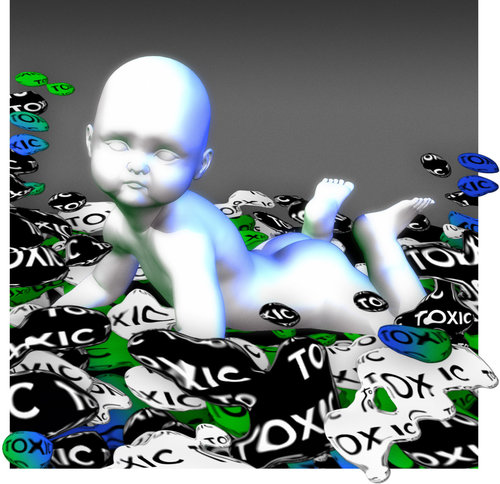 April 13, 2013 – New York Times
UNREGULATED CHEMICALS RESULT IN USA BABIES BORN "PRE-POLLUTED"
The overwhelming majority of chemicals in use today have never been independently tested for safety.
MANY Americans assume that the chemicals in their shampoos, detergents and other consumer products have been thoroughly tested and proved to be safe. This assumption is wrong… http://www.nytimes.com/2013/04/14/sunday-review/think-those-chemicals-have-been-tested.html?pagewanted=all&_r=0
PROCESSED FOODS MAKE UP 70 PERCENT OF THE USA DIET – WITH ABOUT 5,000 DIFFERENT CHEMICAL ADDITIVES http://sco.lt/7FPtxZ
WHAT EVERY PARENT SHOULD KNOW ABOUT OUR BIG FOOD CHEMICAL INDUSTRY http://sco.lt/4iWsID
POISONED FOR PROFIT – HOW TOXINS ARE MAKING OUR CHILDREN CHRONICALLY ILL http://www.poisonedforprofit.net/
WHAT PESTICIDE EXPOSURE IS DOING TO YOUR BODY http://sco.lt/7IKHmD
CHEMICALS IN YOUR BODY: NEW UN STUDY REVEALS OUR CHEMICAL FOLLY – ENDROCINE AG CHEMICAL DISTRUPTERS A GLOBAL EMERGENCY http://sco.lt/82f9px
WATCH: February 13, 2013 PBS NEWSHOUR REPORT INVESTIGATION
++++POISONOUS CHEMICAL TOXINS IN YOUR DRINKING WATER: THE CHEMICAL INDUSTRY, THE EPA AND CONFLICT OF INTERESTS http://www.pbs.org/newshour/multimedia/epa-corporate/
CHEMICAL CREEP: HOW TOXIC CHEMICALS ARE SNEAKING INTO YOUR FOOD AND YOUR BODY – March 7, 2013 Huffington Post http://www.huffingtonpost.com/2013/03/07/toxic-chemicals-food-body_n_2829270.html
WHY WE POISON OUR FOOD AND DR. SEUSS http://sco.lt/5NKmq9
BEE-KILLING CHEMICALS LURK INSIDE YOUR FOOD: AGROCHEMICALS THREAT TO WILD BEES, FOOD SECURITY AND BIODIVERSITY http://sco.lt/8mGvg1
GIANT PESTICIDE LOBBY SPENDS MILLIONS TO DEFEND CHEMICALS TIED TO BEE DEATHS (and in our food supply) http://sco.lt/6l7kG1
OUR GMO CORNFIELDS ARE TOO QUIET – ALL LIFE CHEMICALLY EXTERMINATED – EXCEPT THE CORN http://sco.lt/6przzF
NEW RESEARCH: GMO FOOD FAR WORSE THAN WE THINK. THEIR TOXIC CHEMICAL COCKTAILS http://sco.lt/6ncV3x
>WHY IS OUR FOOD BEING MADE AND MODIFIED BY THE WORLD'S LARGEST PESTICIDE MANUFACTURER?
http://gmo-awareness.com/all-about-gmos/gmo-defined/
THE GLOBAL CHEMICAL BIOTECH CARTEL – AN UNPRECEDENTED POWER OVER WORLD FOOD SUPPLY http://www.scoop.it/t/agriculture-gmos-pesticides/p/1716244040/the-global-chemical-biotech-cartel-an-unprecedented-power-over-world-agriculture-and-human-health
NEW CHARGES AGAINST MONSANTO'S "ROUNDUP" – THE ULTIMATE KILLING MACHINE http://sco.lt/8iHda5
See on www.nytimes.com