See on Scoop.it – Sustainability is the the future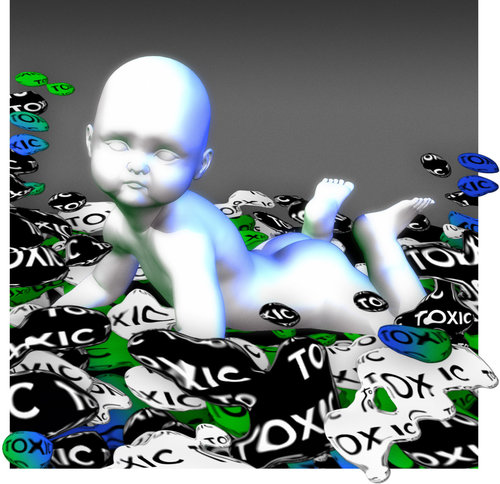 April 13, 2013 – New York Times
UNREGULATED CHEMICALS RESULT IN USA BABIES BORN "PRE-POLLUTED" The overwhelming majority of chemicals in use today have never been independently tested for safety.
MANY Americans assume that the chemicals in their shampoos, detergents and other consumer products have been thoroughly tested and proved to be safe. This assumption is wrong… http://www.nytimes.com/2013/04/14/sunday-review/think-those-chemicals-have-been-tested.html?pagewanted=all&_r=0
May 6, 2013 Environmental Health News Special Report:
'CHEMICALS OF HIGH CONCERN' FOUND IN THOUSANDS OF CHILDREN'S PRODUCTS http://www.environmentalhealthnews.org/ehs/news/2013/childrens-products
May 1, 2013 – Common Dreams
TOXIC CHEMICALS FOUND IN THOUSANDS OF CHILDREN'S PRODUCTS http://www.commondreams.org/headline/2013/05/01-5
May 7, 2013 Environmental News Service
TOXIC WASTE SITES IN POOR NATIONS CAUSE CHILD DISEASE, DEATH http://ens-newswire.com/2013/05/07/toxic-waste-sites-in-poor-nations-cause-child-disease-death/
May 2, 2013 Ecowatch
5,000 CHILDREN'S PRODUCTS CONTAIN TOXIC CHEMICALS LINKED TO CANCER http://ecowatch.com/2013/5000-childrens-products-contain-toxic-chemicals-linked-cancer/
POISONED FOR PROFIT – HOW TOXINS ARE MAKING OUR CHILDREN CHRONICALLY ILL http://www.poisonedforprofit.net/
PESTICIDES HARM CHILDREN'S DEVELOPMENT: Bad for adult brains, too – Strong report from pediatricians: http://sco.lt/8g7Daz
THE PESTICIDE PESTILENCE: NEONICOTINOID-COATED WILD BIRD SEEDS DEADLY TO SONG BIRDS AND WILDLIFE http://focusingonwildlife.com/news/conservation-group-seeks-assurance-that-wild-bird-seed-products-are-pesticide-free/?utm_source=rss&utm_medium=rss&utm_campaign=conservation-group-seeks-assurance-that-wild-bird-seed-products-are-pesticide-free
May 8, 2013 Malaya Business News
SYNTHETIC CHEMICALS INCREASE INCIDENCES OF REPRODUCTIVE DISEASES AND TYPE-2 DIABETES http://www.malaya.com.ph/index.php/special-features/environment/170-environment/30396-edcs-global-problem-needs-global-solution
February 25, 2013 Environmental Defense Fund
PREVENTION AS CURE: THE CHALLENGE OF BREAST CANCER WITH CHEMICALS IN OUR ENVIRONMENT http://www.edf.org/blog/2013/02/25/prevention-cure-challenge-breast-cancer?path=hp&postion=3
April 29, 2013 Bill Moyers
YOUR BODY IS A CORPORATE TEST TUBE http://billmoyers.com/2013/04/29/your-body-is-a-corporate-test-tube/
April 9, 2013 – Pew Charitable Trusts – Health Initiatives
CHEMICALS IN OUR FOOD: WHAT WE DON'T KNOW MAY BE HURTING US http://www.pewhealth.org/other-resource/chemicals-in-our-food-what-we-dont-know-may-be-hurting-us-85899467015
PROCESSED FOODS MAKE UP 70 PERCENT OF THE USA DIET – WITH ABOUT 5,000 DIFFERENT CHEMICAL ADDITIVES http://sco.lt/7FPtxZ
WHAT EVERY PARENT SHOULD KNOW ABOUT OUR BIG FOOD CHEMICAL INDUSTRY http://sco.lt/4iWsID
NEW RESEARCH: GMO FOOD – THEIR TOXIC CHEMICAL COCKTAILS http://sco.lt/6ncV3x
>WHY IS OUR FOOD BEING MADE AND MODIFIED BY THE WORLD'S LARGEST PESTICIDE MANUFACTURER?
http://gmo-awareness.com/all-about-gmos/gmo-defined/
MONSANTO CONTROLS YOUR DIET http://sco.lt/7y3prN
MONSANTO DOESN'T WANT YOU TO KNOW WHAT YOU'RE EATING http://sco.lt/56Zy7t
May 6, 2013 Independent Science News
THE EXPERIMENT IS ON US: SCIENCE OF ANIMAL TESTING PRODUCTS FOR HUMANS THROWN INTO DOUBT http://independentsciencenews.org/news/the-experiment-is-on-us-animal-toxicology-testing-science/
May 8, 2013 AlertNet
DID MAKE=UP GIVE MY WIFE BREAST CANCER? http://www.alternet.org/personal-health/did-make-give-my-wife-breast-cancer-ugly-truth-hidden-cosmetics-industry
May 9, 2013 OpEd
WORSE THAN GERMS – THE CHEMICALS USED TO DISINFECT MEAT AND SEAFOOD http://www.opednews.com/articles/Worse-than-Germs-the-Chem-by-Martha-Rosenberg-130509-976.html
April 29, 2013 – Salon
AMERICA IS POISONOUS TO YOUR HEALTH. Without Our Knowledge, or Consent, some of the country's largest corporation are subjecting us to deadly toxins http://www.salon.com/2013/04/29/christie_3_partner/
March 29, 2013 EWG Environmental Working Group
A LOOPHOLE FOR PESTICIDES PUTS PUBLIC'S HEALTH AT RISK – the U.S. Environmental Protection Agency has approved roughly 11,000 pesticides intended for use in agriculture, inside homes, on lawns, in hand soaps, on clothing and other consumer goods with little or no safety tests, according to a multi-year investigation by the Natural Resources Defense Council. http://www.ewg.org/enviroblog/2013/03/loophole-pesticides-risks-public-health
28 March 2013 USA Today
STUDY: TWO-THIRDS OF PESTICIDES IN CONSUMER PRODUCTS AND IN ENVIRONMENT GOT EPA LOOPHOLE APPROVAL WITH MINIMUM OR NO TESTING http://www.usatoday.com/story/news/nation/2013/03/27/pesticides-get-flawed-epa-approval/2024991/
THIS PESTICIDE INDUSTRY SPIN VIDEO SAYS PESTICIDES ARE GOOD FOR YOU: NO ACCOUNTING FOR ACCUMULATED IMPACTS ON HUMAN AND ENVIRONMENTAL HEALTH: PESTICIDES ARE POISON. PERIOD
VIDEO: http://pesticideinformation.eu/2013/05/07/pesticide-residues-seven-reasons-your-food-is-safe/
April 23, 2013 – Science Daily
SCIENTISTS URGE UN TO TAKE ACTION ON CHEMICALS IN CONSUMER PRODUCTS AND PESTICIDES http://www.sciencedaily.com/releases/2013/04/130423090809.htm
CHEMICALS IN YOUR BODY: NEW UN STUDY REVEALS OUR CHEMICAL FOLLY – ENDROCINE AG CHEMICAL DISTRUPTERS A GLOBAL EMERGENCY http://sco.lt/82f9px
April 23, 2013 Chicago Tribune
FEDERAL LAW MAKES IT PRACTICALLY IMPOSSIBLE TO BAN HAZARDOUS CHEMICALS – The 1976 Toxic Substances Control Act, the only major environmental law that hasn't been updated since it was enacted, allows chemical manufacturers to skip evaluating the safety of their products before putting them on the market. http://www.scoop.it/t/agriculture-gmos-pesticides?q=chemicals+in+your+body
April 18, 2013 – New York Times
ABIDING BY TOOTHLESS 1976 LAWS ON TOXIC CHEMICALS http://www.nytimes.com/2013/04/19/opinion/a-toothless-law-on-toxic-chemicals.html?_r=1
April 12, 2013 – Honey Colony – Mark Bittman
PESTICIDES: THE THREAT IS MORE ACUTE THAN EVER http://www.honeycolony.com/article/pesticides-now-more-than-ever/
February 8, 2012 Food Integrity Campaign
DROWNING IN HERBICIDE: MONSANTO IGNORES HEALTH CONCERNS http://www.foodwhistleblower.org/blog/23-2012/286-drowning-in-herbicide-monsanto-ignores-health-concerns
April 20 2013 Nation of Change
+++ VIDEO – BILL MOYERS – THE TOXIC ASSAULT ON OUR CHILDREN – Biologist, mother and activist Sandra Steingraber speaks out http://www.nationofchange.org/toxic-assault-our-children-1366472171
+++FOLLOW – ENVIRONMENTAL HEALTH NEWS:
EXCELLENT RESOURCE ON MATTERS RELATIONS TO ENVIRONMENTAL HEALTH http://www.environmentalhealthnews.org/
April 21, 2013 – WisconsinWatch.org
ALARM FOR MEN: HORMONE-DISTRUPTING CHEMICALS HAVE FEMINIZED 80 TO 100 PERCENT OF MALE SMALL MOUTH BASS IN WISCONSIN WATER
Known as endocrine disruptors, these chemicals are in soaps, plastics, industrial solvents, pesticides and herbicides, as well as human or animal medicines. Some occur naturally but hundreds are man-made and found everywhere that modern chemistry has improved people's lives.
A United Nations report in February declared endocrine disruptors a "global threat" to wildlife and humans, particularly infants and children. Close to 800 chemicals are known or suspected to disrupt hormone function, but thousands in use have never been tested, the U.N. report said…. http://www.wisconsinwatch.org/2013/04/21/concerns-grow-about-hormone-disrupting-chemicals-in-wisconsin-water/
NEW CHARGES AGAINST MONSANTO'S INSECTICIDE, ROUNDUP – THE ULTIMATE KILLING MACHINE http://sco.lt/8iHda5
—————————–FOOD ALLERGIES —————————
WATCH:
VIDEO: FOOD ALLERGIES TURN AN UNLIKELY WALL STREET MOM INTO A FOOD EVANGELIST http://sco.lt/6QnVNh
April 15, 2013 NPR Fresh Air
THE DOCTOR TRYING TO SOLVE THE MYSTERY OF FOOD ALLERGIES. Dr. Kari Nadeau is one of the scientists at the forefront of food allergy research. She directs the Stanford Alliance for Food Allergy Research, SAFAR, at Stanford University School of Medicine. http://www.npr.org/2013/04/15/177319365/the-doctor-trying-to-solve-the-mystery-of-food-allergies
FOOD ALLERGIES, CANCER, ILL HEALTH LINKED TO CHEMICAL PESTICIDES http://sco.lt/4megAz
UN REPORT: URGENT ACTION NEEDED: GROWING HEALTH AND ENVIRONMENTAL HAZARDS FROM SPREAD OF CHEMICAL DEPENDENCY
UNEP said chemicals have become so important to daily life in today's world that the value of their output has grown to $4.12 TRILLION, compared to $171 billion in 1970. http://www.scoop.it/t/agriculture-gmos-pesticides/p/2862196581/un-report-urgent-action-needed-growing-health-and-environmental-hazards-from-spread-of-chemical-dependency
WHAT PESTICIDE EXPOSURE IS DOING TO YOUR BODY http://sco.lt/7IKHmD
7 CRAZY THINGS PESTICIDES ARE DOING TO YOUR BODY http://www.scoop.it/t/agriculture-gmos-pesticides/p/2367544798/7-crazy-things-pesticides-are-doing-to-your-body
THOUSANDS OF DYING FARMERS IN SRI LANKA: STUDIES LINKS KIDNEY DISEASE TO AGROCHEMICALS http://sco.lt/6gKuMT
May 6, 2013 Guardian Environment
GUADELOUPE AND MARTINIQUE THREATENED AS PESTICIDE CONTAMINATES FOOD CHAIN http://www.guardian.co.uk/environment/2013/may/07/guadeloupe-economy-theatened-pesticides-pollution
March 7, 2013 Huffington Post
CHEMICAL CREEP: HOW TOXIC CHEMICALS ARE SNEAKING INTO YOUR FOOD AND YOUR BODY – http://www.huffingtonpost.com/2013/03/07/toxic-chemicals-food-body_n_2829270.html
WHY WE POISON OUR FOOD AND DR. SEUSS http://sco.lt/5NKmq9
AMERICANS 'ARE SICKER AND DIE YOUNGER' THAN PEOPLE IN OTHER WEALTHY NATIONS – OBESITY PLUS http://sco.lt/7W6zB3
February 13, 2013 PBS NewsHour Report Investigation
++++WATCH: POISONOUS CHEMICAL TOXINS IN YOUR DRINKING WATER: THE CHEMICAL INDUSTRY, THE EPA AND CONFLICT OF INTERESTS http://www.pbs.org/newshour/multimedia/epa-corporate/
MORE ON INVESTIGATION INTO CHEMICALS IN OUR WATER
http://www.wisconsinwatch.org/category/environment/
PHARMACEUTICAL, ANTIBIOTIC, CHEMICAL, PESTICIDE POLLUTION IN OUR STREAMS, RIVERS AND DRINKING WATER http://sco.lt/7rpdbN
PESTICIDES, CHEMICALS NOW SO WIDESPREAD IN ENVIRONMENT DISRUPTING BRAIN FUNCTION IN BEES (AND US) http://sco.lt/7PcIeP
BEE-KILLING CHEMICALS LURK INSIDE YOUR FOOD: AGROCHEMICALS THREAT TO WILD BEES, FOOD SECURITY AND BIODIVERSITY http://sco.lt/8mGvg1
GIANT PESTICIDE LOBBY SPENDS MILLIONS TO DEFEND CHEMICALS TIED TO BEE DEATHS AND HUMAN HEALTH http://sco.lt/6l7kG1
THE GLOBAL CHEMICAL BIOTECH CARTEL – AN UNPRECEDENTED POWER OVER WORLD FOOD SUPPLY http://www.scoop.it/t/agriculture-gmos-pesticides/p/1716244040/the-global-chemical-biotech-cartel-an-unprecedented-power-over-world-agriculture-and-human-health
OUR GMO CORNFIELDS ARE TOO QUIET – ALL LIFE CHEMICALLY EXTERMINATED – EXCEPT THE GENE-ALTERED CORN http://sco.lt/6przzF
NEW CHARGES AGAINST MONSANTO'S "ROUNDUP" – THE ULTIMATE KILLING MACHINE http://sco.lt/8iHda5
PESTICIDE LOBBY SPENDS MILLIONS TO DEFEND CHEMICALS TIED TO BEE DEATHS AND HUMAN HEALTH http://sco.lt/8nhcsT
LETTING BIODIVERSITY GET UNDER OUR SKIN – THE BENEFITS OF BIODIVERSITY IN OUR HOMES http://sco.lt/8bxox7
WATCH:
++++THE WORLD ACCORDING TO MONSANTO (FULL LENGTH) THE LEADER OF THE CHEMICAL BIOTECH CARTEL http://sco.lt/7FFsXZ
See on www.nytimes.com