See on Scoop.it – Monsanto Sucks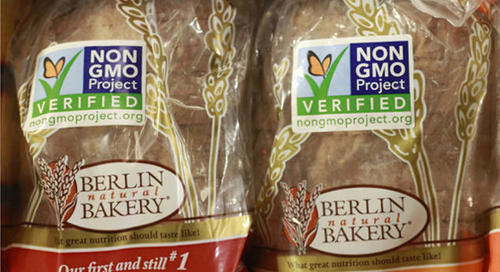 May 2, 2014 – CHICAGO (Reuters) –
New efforts to force labeling of foods made with genetically modified crops, including a bill introduced by U.S. lawmakers Wednesday, have struck a nerve with biotech crop developers who say they are rushing to roll out a broad strategy to "combat" consumer concerns about their products.
Executives from Monsanto Co., DuPont, and Dow Chemical, among the world's largest developers of biotech crops and the chemicals used to help produce them, told Reuters this week they are putting together a campaign aimed at turning the tide on what they acknowledge is a growing public sentiment against genetically modified organisms (GMOs) used as ingredients in the nation's food supply… http://www.reuters.com/article/2013/04/25/us-usa-gmo-labeling-idUSBRE93O18S20130425
In 2010, 85 percent of all corn and 92 percent of soy planted in the U.S. contained Monsanto's patented genetically modified traits, without your knowledge
May 13, 2013 ScienceInsider
U.S. SUPREME COURT UPHOLDS MONSANTO SOYBEAN PATENTS http://news.sciencemag.org/scienceinsider/2013/05/us-supreme-court-upholds-monsant.html?ref=em
May 13, 2013 Intellectual Property Watch
U.S. SUPREME COURT RULES IN FAVOR OF MONSANTO IN PATENT EXHAUSTION CASE http://www.ip-watch.org/2013/05/13/us-supreme-court-rules-in-favour-of-monsanto-in-patent-exhaustion-case/
THE GLOBAL CORPORATE MONOPOLY IN SEED PATENTS: WHY THE MOST POWERFUL THING IN THE WORLD IS A SEED http://sco.lt/6zf3i5
GENE GIANTS SEEK "PHILANTHROGOPOLY" – SIX MULTINATIONAL GENE GIANTS CONTROL THE DIRECTION OF WORLD AGRICULTURE WITH SEED PATENT MONOPOLY http://sco.lt/6h3lzt
April 02, 2013 Center for Food Safety – MAP
GLOBAL GENETICALLY ENGINEERED (GMO) FOOD LABELING LAWS (more than 60 countries around the world) http://www.centerforfoodsafety.org/reports/1413/genetically-engineered-food-labeling-laws-map
MONSANTO CONTROLS YOUR DIET http://sco.lt/7y3prN
Seattle Times:
THE POLITICS OF ALTERED FOODS http://community.seattletimes.nwsource.com/archive/?date=19991107&slug=2993667
INFOGRAPH:
GMOs: THE WALKING DEAD OF THE FOOD INDUSTRY http://www.care2.com/greenliving/gmos-the-walking-dead-of-the-food-industry-infographic.html
PROCESSED AND GMO FOODS MAKE UP 70 PERCENT OF THE US DIET- WITH ABOUT 5,000 DIFFERENT CHEMICAL ADDITIVES http://sco.lt/7FPtxZ
________________________TAKE ACTION _________________________
An international protest planned for March 25, 2013 against biotechnology company Monsanto is slated to span six continents and include demonstrations in dozens of countries around the globe.
May 10, 2013 RT USA
MONSANTO PROTESTS SCHEDULED IN AT LEAST 36 COUNTRIES http://rt.com/usa/monsanto-march-protests-world-069/
MARCH AGAINST MONSANTO PLANNED FOR OVER 30 COUNTRIES – MAY 25 2013 http://readersupportednews.org/news-section2/445-farm-and-food-policy/17309-march-against-monsanto-planned-for-over-30-countries
GLOBAL MARCH AGAINST MONSANTO MAY 25TH, 2013 – YouTube http://www.youtube.com/watch?v=LICQCxq1FqU
THE UPRISING – MOMS ACROSS AMERICA MARCH JULY 4th TO LABEL GMOs: Monsanto may have a lot of money but the love for our children is bigger than their wallets http://www.momsacrossamerica.com/the_uprising
May 11, 2013 Nation Of Change
FEARLESSNESS GROWS FROM THE GRASS ROOTS http://www.nationofchange.org/fearlessness-grows-grass-roots-1368280478
May 10, 2013 Moyers and Company Full Show:
+++ WATCH: HOW PEOPLE POWER GENERATES CHANGE http://billmoyers.com/episode/full-show-how-people-power-generates-change/
_________________________________________________________________
WAKE UP AND SMELL THE GMOs – A MOTHER'S VOICE http://sco.lt/9Dv6VF
MONSANTO CONTROLS YOUR DIET http://sco.lt/7y3prN
April 25, 2013 CS Monitor
PERU BANS ALL GMO CROPS http://www.csmonitor.com/World/Americas/2013/0425/Peru-says-no-to-GMO
Peruvian Times: TEN YEAR BAN ON GENETICALLY MODIFIED SEEDS AND FOODS IN PERU – However, despite the fact that the ban will certainly protect Peru's crops, more than 70% of the foods on the supermarket shelves in Peru contain GMOs Some are labeled as such, some are not —the consumer protection law says consumers have a right to know what they are eating or drinking but institutions within the government are working to extend the deadline again for a further year.
http://www.peruviantimes.com/17/ten-year-ban-on-genetically-modified-seeds-and-foods-takes-force-thursday/17479/
May 13, 2013 IPS
MEXICO: GENE GIANTS PREPARE THE GENETIC WIPE-OUT OF ONE OF THE WORLD'S MOST IMPORTANT FOODS http://sco.lt/7TN70z
May 11, 2013 Nation Of Change
VERMONT HOUSE PASSES GMO LABELING BILL http://www.nationofchange.org/breaking-vermont-house-passes-gmo-labeling-bill-1368284335
May 9, 2013 Cornucopia Institute
PULL GMOs OUT OF "SIMILAC" LEADING INFANT FORMULA? SHAREHOLDERS VOTE NO http://www.cornucopia.org/2013/05/pull-gmos-out-of-similac-shareholders-vote-no/
GMO BABY FOOD SHOCK http://www.acbio.org.za/index.php/media/64-media-releases/427-nestle-baby-food-shuns-gmos-purity-gm-baby-food-shock
May 10, 2013 Reuters
—USDA SAYS MORE REVIEW NEEDED FOR NEW MONSANTO, DOW GMO CROPS http://www.reuters.com/article/2013/05/10/us-usa-gmo-idUSBRE9490N220130510
—May 10, 2013 New York Times
http://www.nytimes.com/2013/05/11/business/energy-environment/environmental-review-to-delay-two-engineered-crops.html?emc=tnt&tntemail1=y&_r=0
May 6, 2013 Food Safety News
++++GENETICALLY ENGINEERED CROP RISK ASSESSMENT CHALLENGES: AN OVERVIEW http://www.foodsafetynews.com/2013/05/ge-crop-risk-assessment-challenges-an-overview/#.UYsK74Lyeic
May 8, 2013 – Mother Jones, Tom Philpott
7 DODGY FOOD PRACTICES BANNED IN EUROPE BUT JUST FINE HERE http://www.motherjones.com/tom-philpott/2013/05/7-dodgy-foodag-practices-banned-europe-just-fine-here
+++WATCH May 6, 2013 Democracy Now
VIDEO: INTERVIEW WITH MICHAEL POLLAN ON RECLAIMING OUR FOOD SYSTEM, MAKING OURSELVES HEALTHY AND GROWING DEMOCRACY http://www.democracynow.org/2013/5/6/michael_pollan_on_how_reclaiming_cooking
+++WATCH October 24, 2012 Democracy Now
VIDEO: MICHAEL POLLAN – FROM GMOs to NYC's SODA BAN, LOCAL EFFORTS CHALLENGE AGRI-GIANTS NATIONAL CONTROL http://www.democracynow.org/2012/10/24/michael_pollan_from_gmos_to_nycs
UNLEASHING GENETICALLY SALMON ONTO YOUR DINNER PLATE = NO REGULATIONS, NO OVERSIGHT, NO LABELING – "FATALLY FLAWED" FDA ASSESSMENT http://sco.lt/8ZDraz
THE POWER OF THE BIOTECH INDUSTRY: SPENDING TENS OF MILLIONS TO DEFEAT OPPOSITION
NEW POLL SHOWS STRONG PUBLIC SUPPORT FOR FUTURE GMO LABELING http://organicconnectmag.com/wp/new-poll-shows-strong-support-for-future-gmo-labeling/#.UYR5r4Lyeid
"STUNNING" DIFFERENCE OF GM FROM NON-GM CORN http://sco.lt/5X53bt
MONSANTO AND COHORTS DON'T WANT YOU TO KNOW WHAT YOU'RE EATING http://sco.lt/56Zy7t
MONSANTO AND CHEMICAL BIOTECH CARTEL CONTROLS YOUR DIET http://sco.lt/7y3prN
THINK THOSE CHEMICALS AND PESTICIDES IN YOUR FOOD HAVE BEEN TESTED? http://sco.lt/7QxMob
HOW GMO FOODS AFFECT HEALTH – GENE ALTERED FOODS NOW LARGE PART OF AMERICAN DIET http://sco.lt/7oVxQH
MAJOR US FOOD RETAILERS TO SHUN GENETICALLY MODIFIED, FACTORY FARMED, ENSLAVED SEAFOOD http://sco.lt/4qgoDZ
GENETICALLY MODIFIED CROPS NOT THE SOLUTION FOR "FEEDING THE WORLD" http://sco.lt/77BuML
+++WATCH:
THE FUTURE OF FOOD – PART 2 Vandana Shiva http://www.scoop.it/t/agriculture-gmos-pesticides/p/951852556/the-future-of-food-part-2-vandana-shiva
May 6, 2013 Institute of Science in Society
GM CROPS AND WATER – A RECIPE FOR DISASTER http://www.i-sis.org.uk/GM_Crops_and_Water_a_Recipe_for_Disaster.php
May 7, 2013 Nation of Change
NEW STUDY PROVES Bt TOXINS IN GMOs TOXIC TO MAMMALIAN BLOOD http://www.nationofchange.org/new-study-proves-bt-toxins-gmos-toxic-mammalian-blood-1367936953
GMO IN CONSUMER PROCESSED AND RAW FOODS:
TOP BREAKFAST CEREALS THAT CONTAIN MONSANTO'S GMO CORN http://www.seattleorganicrestaurants.com/vegan-whole-foods/breakfast-cereals-monsanto-gmo-corn/
April 2, 2013 Fractured Paradigm
BOYCOTT MONSANTO AND GMOs – A SIMPLE LIST OF COMPANIES TO AVOID http://fracturedparadigm.com/2013/04/02/boycott-monsanto-a-simple-list-of-companies-to-avoid/
WORLD'S LARGEST FOOD CORPORATIONS CREATING LEGACY OF DESTRUCTION http://sco.lt/6sSzK5
AFRICA: NAMBIA AGRONOMIC BOARD CONDEMNS GENETICALLY MODIFIED MAIZE FOUND IN CONSUMER FOOD PRODUCTS http://www.scoop.it/t/environmental-and-human-health/p/3997561898/nambia-agronomic-board-condemns-genetically-modified-maize-found-in-consumer-food-products
April 4, 2013
ITALY ASKS EU TO HALT GM MAIZE CULTIVATION : AFP http://www.seeddaily.com/reports/Italy_asks_EU_to_halt_GM_maize_cultivation_AFP_999.html
READ++++SALT, SUGAR, FAT : HOW THE FOOD GIANTS HOOKED US http://sco.lt/5edsnZ
February 8, 2012 Food Integrity Campaign
DROWNING IN HERBICIDE: MONSANTO IGNORES HEALTH CONCERNS http://www.foodwhistleblower.org/blog/23-2012/286-drowning-in-herbicide-monsanto-ignores-health-concerns
NEW CHARGES AGAINST MONSANTO'S "PESTICIDE" ROUNDUP (NEEDED FOR GMO CROPS) – THE ULTIMATE KILLING MACHINE http://sco.lt/5bdPhx
May 11, 2013 Focusing on Wildlife
CONSERVATION GROUP SEEKS ASSURANCE THAT WILD BIRD SEED PRODUCTS ARE PESTICIDE (AND GMO) FREE http://focusingonwildlife.com/news/conservation-group-seeks-assurance-that-wild-bird-seed-products-are-pesticide-free/?utm_source=rss&utm_medium=rss&utm_campaign=conservation-group-seeks-assurance-that-wild-bird-seed-products-are-pesticide-free
May 2, 2013 Environmental Working Group – 2013 Farm Bill
TAXPAYERS GET SOAKED TO PROP UP GMO SOY AND CORN FARM INCOME – BILLIONS OF DOLLARS http://www.ewg.org/agmag/2013/05/taxpayers-get-soaked-prop-farm-income
May 2, 2013 New York Times
THE CORPORATE WELFARE GAME IN USA FARM BILL – $1.3 BILLION MOSTLY FOR BIG AG GMO CROPS
http://www.nytimes.com/2013/05/02/us/crop-insurance-swells-beyond-disaster-aid-study-says.html?partner=rss&emc=rss
——————–WATCH——————
WATCH:
+++ GMO LABEL LAW INTRODUCED TO USA SENATE YouTube http://www.youtube.com/watch?v=QOJ8qmlvd1k
WATCH:
+++ MONSANTO FOOD WARS: GMO SEEDS AND ANIMALS http://www.scoop.it/t/agriculture-gmos-pesticides/p/3997411054/watch-monsanto-food-wars-gmo-seeds-and-animals
WATCH:
April 29, 2013 Yahoo! Finance
+++ MICHAEL POLLAN: GENETICALLY MODIFIED FOODS OFFER CONSUMERS "NOTHING" http://finance.yahoo.com/blogs/daily-ticker/michael-pollan-genetically-modified-foods-offer-consumers-nothing-125539792.html
—————————————-
FAST FOOD, SLOW DEATH : "Food Deserts" and the $500 Billion Corporate Food Monopoly http://sco.lt/6YRaUr
20 FOODS YOU SHOULD NEVER EAT http://www.care2.com/greenliving/more-than-9-foods-you-should-just-never-eat.html
___________________________________________________________________
++++++OBAMA QUIETLY DE-REGULATES GMO/ GENETIC BIOTECH INDUSTRY Fast-tracking approvals, waiving regulations, liability http://sco.lt/5uCx8b
INDIA'S MONSANTO PROTECTION ACT – DR. VANDANA SHIVA – BIOTECH INDUSTRY TRICKERY http://sco.lt/8BpmF7
__________________________________________________________________
MONSANTO: A CORPORATE PROFILE From Saccharin to GE Seed – Chemicals for Food, Agriculture, War http://sco.lt/5TGVDl
May 5, 2013 Nation Of Change
STUDY LINKS MONSANTO'S ROUNDUP TO AUTISM, PARKINSON'S AND ALZHEIMERS http://www.nationofchange.org/study-links-monsanto-s-roundup-autism-parkinson-s-and-alzheimer-s-1367764115
GUADELOUPE AND MARTINIQUE THREATENED AS PESTICIDES/CHEMICALS CONTAMINATE FOOD CHAIN http://sco.lt/5m8ZWL
GENETICALLY MODIFIED CROPS AND FOOD NOT THE SOLUTION FOR "FEEDING THE WORLD" http://sco.lt/77BuML ;
BILL GATES FUNDS RISKY, UNPROVEN, UNREGULATED GMO BANANAS FOR PREGNANT WOMEN IN INDIA http://sco.lt/8v1HaD
28 March, 2013 – Nation of Change
BIO-DEMOCRACY OR CORPORATOCRACY: THE FOOD FIGHT OF OUR LIVES http://www.nationofchange.org/biodemocracy-or-corporatocracy-food-fight-our-lives-1364483920
May 23, 2013 Independent Science News
HOW AGRICULTURE CAN PROVIDE FOOD SECURITY WITHOUT DESTROYING BIODIVERSITY WITH GMO AND LASHINGS OF PESTICIDES, CHEMICALS http://independentsciencenews.org/news/agriculture-can-provide-food-security-with-biodiversity/
————————–
BE ALERT
++WATCH for a massive, orchestrated global tsunami by the biotech chemical industry (through 3rd parties spokespeople) to convince you that they are serving both you and the planet not their trillion dollar global monopoly of our food and seed requiring lashings of pesticides and chemicals. It will come from all corners, such as this: Such As This from Bioscience Resource Project http://ow.ly/kJwDU
SCIENCE MEDIA CENTRE INVENTS MORE GM "GOOD NEWS" STORIES http://www.gmfreecymru.org/news/Press_Notice1May2013.html
Words/Phrases such as "GMOs Will Feed the World" "Sustainable" "Eco or Environmentally friendly" and somehow that pesticides/and chemicals are used less on GMOs — all of which are misleading with adverse impact our biodiversity, ecosystems and humand/environmental health.
This will be a huge multi-media advertising and public relations slick, spin and clever campaign. Question who is behind the article. Question any funding behind the author of the articles by the biotech industry that has it's fingers in so many areas of corporate business (including Big Pharma, Big Ag, Big Food, Big Oil) Tens of Millions of dollars will be behind this campaign to counter the awakening of the general public and to protect their trillion, firmly entrenched trillion dollar global business model monopoly. Stay Alert.
+++++++++++++++++++
May 3, 2013 – Ag Professional
CLOSING RANKS: SIX COUNTRIES GANG UP TO PROMOTE TRADE IN BIOTECH GMO CROPS http://www.agprofessional.com/news/Six-countries-promoting-trade-in-biotech-crops-205803911.html?llsms=209341&c=y
_________________YOUR RIGHT TO KNOW FIGHT 2012________________
November 1, 2012
+++BIG FOOD AND PESTICIDE BUSINESS BANKROLLS $45 MILLION CAMPAIGN AGAINST THE RIGHT TO KNOW GMO LABELING IN CALIFORNIA PROP 37 (LIST) http://www.carighttoknow.org/tags/basf
September 19, 2012
+++MONSANTO AND CO. WAR CHEST AGAINST GMO LABELING NOW $32 MILLION AND RISING http://sco.lt/59fbov
August 7, 2012 Grist
+++THESE COMPANIES DON'T WANT GMOs LABELED – LIST OF CONTRIBUTIONS http://grist.org/food/these-companies-dont-want-gmos-labeled-in-california/
October 20, 2012
+++"BIG 6″ PESTICIDE CORPORATIONS TOP THE LIST OF FOOD LABELING OPPONENTS http://sco.lt/9JOsE5
January 9, 2013 Center for Food Safety
+++POST-PROP 37 POLL SHOWS STRONG PUBLIC SUPPORT FOR FUTURE GE FOOD LABELING http://www.centerforfoodsafety.org/press-releases/781/post-prop-37-poll-shows-strong-public-support-for-future-ge-food-labeling
————————-
THE GLOBAL CHEMICAL BIOTECH CARTEL – AN UNPRECEDENTED POWER OVER WORLD FOOD SUPPLY http://www.scoop.it/t/agriculture-gmos-pesticides/p/1716244040/the-global-chemical-biotech-cartel-an-unprecedented-power-over-world-agriculture-and-human-health
THINK THOSE CHEMICALS IN YOUR FOOD HAVE BEEN TESTED? http://sco.lt/7QxMob
MONSANTO' "PESTICIDE" ROUNDUP LINKED TO PARKINSON'S, INFERTILITY AND CANCERS http://sco.lt/4pt9tJ
WHY IS OUR FOOD BEING MADE AND MODIFIED BY THE WORLD'S LARGEST PESTICIDE MANUFACTURER?
http://gmo-awareness.com/all-about-gmos/gmo-defined/
THE NEXT GMO BIOTECH WAVE: EXTREME SYNTHETIC GENETICS: THE IMPLICATIONS. THE ETHICS http://sco.lt/6TyUmv
BIOTECH RE-ENGINEERING, RE-PROGRAMMING AND PATENTING LIFE ITSELF. THE ETHICS AND LEGALITIES http://sco.lt/7NZvsH
TRYING TO HOLD BACK THE ONSLAUGHT OF GENETICALLY MODIFIED FOODS — OR AT LEAST SLAP THEM WITH A LABEL http://sco.lt/8oAG5x
January 27, 2013 Collective Evolution
THREE FACTS EVERYBODY SHOULD KNOW ABOUT MONSANTO http://www.collective-evolution.com/2013/01/27/occupy-monsanto-3-facts-everybody-should-know/
May 3, 2013
ORGANIC AGRICULTURE COULD BE RAVAGED BY CHEMTRAILS – MONSANTO SEIZED THE OPPORTUNITY, PROFITS AND DOMINATES SEED PATENT MARKET http://steveblankjrcpt.wordpress.com/2013/05/03/organic-agriculture-ravaged-by-chemtrails-monsanto-seizes-the-opportunity-profits-and-dominates/
MONSANTO GMO TREES COULD DEVASTATE FOREST ECOSYSTEMS http://sco.lt/51ekyH
—————–WATCH ——————-
WATCH:
++++THE WORLD ACCORDING TO MONSANTO (FULL LENGTH) THE LEADER OF THE CHEMICAL BIOTECH CARTEL http://sco.lt/7FFsXZ
WATCH:
+++"GENETIC ROULETTE" The Gamble of Our Lives http://youtu.be/wnlTYFKBg18
WATCH:
+++"MONSANTO FOOD WARS: GMO SEEDS AND ANIMALS" http://www.scoop.it/t/agriculture-gmos-pesticides/p/3997411054/watch-monsanto-food-wars-gmo-seeds-and-animals
WATCH:
+++A SYSTEM BASED ON PROFITS IS UNSUSTAINABLE ….Vandana Shiva on Industrial Agriculture http://www.scoop.it/t/agriculture-gmos-pesticides/p/1614565249/a-system-based-on-profits-is-unsustainable-vandana-shiva-on-industrial-agriculture
Resources:
May 5, 2013 African Center For Biosafety http://www.acbio.org.za/
Independent Science News | Food, Health and Agriculture Bioscience News http://independentsciencenews.org/
See on www.reuters.com