See on Scoop.it – Sustainability is the the future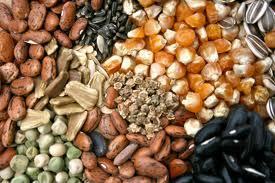 April 25, 2013
THE SEED OLIGARCHS http://gmo-journal.com/2013/04/25/seed-oligarchs/
++++HOW US STATE DEPARTMENT 'TWISTS ARMS' ON MONSANTO'S BEHALF http://www.commondreams.org/headline/2013/05/14-2
May 14, 2013 Food & Water Watch PDF download Full Report
++++BIOTECH AMBASSADORS: HOW THE U.S. STATE DEPARTMENT PROMOTES THE GLOBAL SEED INDUSTRIES AGENDA http://www.commondreams.org/headline/2013/05/14-2
THRU THE BACK DOOR: MEGA BIOTECH GIANTS USE NEW USA-EU TRADE DEAL TO DESTROY GMO SAFEGUARDS http://sco.lt/8E3Xsn
May 8, 2013 Nation Of Change
ALL ABOUT THE NEW STRANGEHOLD GMO EU SEED LAW http://www.nationofchange.org/all-about-new-eu-seed-law-1368022078
May 14, 2013 Common Dreams
WHY IS THE BIOTECH GMO CHEMICAL INDUSTRY SO POWERFUL & UNTOUCHABLE?
May 15, 2013 IPS News
MEXICO: GROUND ZERO IN THE FIGHT FOR THE FUTURE OF MAIZE http://www.ipsnews.net/2013/05/mexico-ground-zero-in-the-fight-for-the-future-of-maize/
PESTICIDE/CHEMICAL REGULATION OVERHAUL NEEDED TO PROTECT WILDLIFE, ECOSYSTEMS AND FOOD CHAIN http://sco.lt/5oplFx
WATCH:
May 13, 2013 NewsHourPBS
+++VIDEO : SUPREME COURT UNANIMOUSLY RULE TO UPHOLD MONSANTO'S SOYBEAN PATENT http://www.pbs.org/newshour/bb/law/jan-june13/scotus_05-13.html
May 13, 2013 Intellectual Property Watch
U.S. SUPREME COURT RULES IN FAVOR OF MONSANTO IN PATENT EXHAUSTION CASE http://www.ip-watch.org/2013/05/13/us-supreme-court-rules-in-favour-of-monsanto-in-patent-exhaustion-case/
May 13, 2013 ScienceInsider
U.S. SUPREME COURT UPHOLDS MONSANTO SOYBEAN PATENTS http://news.sciencemag.org/scienceinsider/2013/05/us-supreme-court-upholds-monsant.html?ref=em
ON THE SEED AND SEED PATENT GLOBAL MONOPOLY
http://www.scoop.it/t/agriculture-gmos-pesticides?q=seeds
GENE GIANTS SEEK 'PHILANTHROGOPOLY" – 6 MULTINATIONAL GENE GIANTS CONTROL THE DIRECTION OF AGRICULTURE http://sco.lt/6h3lzt
Open Seeds:
INDUSTRIAL (GM) SEED CARTEL EXTEND THEIR DOMINANCE – NO SEED CAN BE SOLD WITHOUT PERMISSION http://open-seeds.org/bad-seed-law/
THE GMO SEED CARTEL – HOW BIOTECHNOLOGY COMPANIES MONOPOLIZE GLOBAL SEED MARKETS http://www.scoop.it/t/agriculture-gmos-pesticides/p/3996057818/the-gmo-seed-cartel-how-biotechnology-companies-monopolize-global-seed-markets
BIO-DEMOCRACY OR CORPORATOCRACY – THE FOOD FIGHT OF OUR LIVES http://sco.lt/7696k
OUR PATENTED LIFE – RE-ENGINEERING, PROGRAMMING AND PATENTING LIFE ITSELF– IS BIOTECH OUT … | http://sco.lt/4thM6j
GLOBAL SEED GIANTS PATENT SEEDS REDUCING FARMERS' SEED OPTIONS http://sco.lt/8027ZB
DO WE NEED A GENETIC BILL OF RIGHTS? http://sco.lt/6jmb1l
+++++OBAMA QUIETLY DE-REGULATES GMO/ GENETIC BIOTECH INDUSTRY : Fast-tracking Approvals, Waiving Regulations … http://sco.lt/5uCx8b
— THE GMO SEED PATENT GAME: How Seed Companies Control GM Crop Research? – Scientific American http://www.scoop.it/t/agriculture-gmos-pesticides/p/946593435/the-seed-patent-game-do-seed-companies-control-gm-crop-research-scientific-american
— SEED MONOPOLIES and GMOs… The Biotech Cartel End Game … Reaching the point of no return http://www.scoop.it/t/agriculture-gmos-pesticides/p/2606416839/seed-monopolies-and-gmos-the-biotech-cartel-end-game-the-point-of-no-return
WATCH:
+++++"SEEDING DEEP DEMOCRACY" – VIDEO – Vandana Shiva http://www.scoop.it/t/agriculture-gmos-pesticides/p/1054461972/seeding-deep-democracy-vandana-shiva
INDIA'S MONSANTO PROTECTION ACT – BIOTECH INDUSTRY TRICKERY – GMO SEED MONOPOLY http://sco.lt/661TMX
GENE GIANTS STOCKPILING PATENTS ON LIFE
Nagoya, Japan — Under the guise of developing "climate-ready" crops, the world's largest seed and agrochemical corporations are filing hundreds of sweeping, multi-genome patents in a bid to control the world's plant biomass, according to a report released by ETC Group http://www.etcgroup.org/fr/node/5220
FROM GROWING PROFIT TO GROWING FOOD: CHALLENGING CORPORATE RULE http://sco.lt/7Dg37p
THE NEXT GMO BIOTECH WAVE: EXTREME SYNTHETIC GENETICS: THE IMPLICATIONS. THE ETHICS http://sco.lt/6TyUmv
WATCH:
+++++"SEEDS OF FREEDOM" (10 min) http://www.youtube.com/watch?v=vyh9-K3n4Kg&sns=em #Navdanya, Dr. Vandana Shiva
THE GLOBAL CHEMICAL BIOTECH CARTEL – AN UNPRECEDENTED POWER OVER WORLD AGRICULTURE AND FOOD SUPPLY http://www.scoop.it/t/agriculture-gmos-pesticides/p/1716244040/the-global-chemical-biotech-cartel-an-unprecedented-power-over-world-agriculture-and-human-health
May 13, 2013 IPS
MEXICO: GENE GIANTS PREPARE THE GENETIC WIPE-OUT OF ONE OF THE WORLD'S MOST IMPORTANT FOODS http://sco.lt/7TN70z
Seattle Times:
THE POLITICS OF ALTERED FOODS http://community.seattletimes.nwsource.com/archive/?date=19991107&slug=2993667
May 10, 2013
GMO PATENTS TURN FARMERS SAVING SEEDS INTO "THIEVES" ~ Vandana Shiva http://southweb.org/lifewise/gmo-patents-turn-farmers-saving-seeds-into-thieves-vandana-shiva/
April 25, 2013 Corporate Europe Observatory
OPEN LETTER ON THE CONFLICTS OF INTEREST WITH THE SEED INDUSTRY OF A NATIONAL EXPERT SECONDED TO DG SANCO http://corporateeurope.org/open-letter-conflicts-interest-seed-industry-national-expert-seconded-dg-sanco
NO PATENTS ON SEEDS: Open letter To Members of the European Parliament and European Commission http://www.no-patents-on-seeds.org/en/recent-activities/open-letter-members-european-parliament-and-european-commission
April 26, 2012 Pesticide Action Network
MONSANTO & BIOTECH CARTEL MOVE TO CONSOLIDATE AND MONOPOLIZE GLOBAL SEED PATENTS http://ecowatch.com/2013/corporations-win-farmers-lose-ge-seed-deals/
April 6, 2013 WorldTruthTV
++++MONSANTO-FREE SEED COMPANIES http://worldtruth.tv/monsanto-free-seed-companies/
++++MONSANTO'S SEED COMPANY SUBSIDIARIES – LIST
http://documents.foodandwaterwatch.org/doc/MonsantoSeedsFS.pdf
MONSANTO AND GATES FOUNDATION HAVE MAJOR CONTROL OVER LARGE SEED BANK IN NORWAY – CURRENT TV http://current.com/technology/93147558_monsanto-and-gates-foundation-have-major-control-over-large-seed-bank-in-norway.htm
"DOOMSDAY SEED VAULT" IN THE ARCTIC – WHO OWNS THESE ORIGINAL SEEDS? | Global Research http://www.globalresearch.ca/doomsday-seed-vault-in-the-arctic/23503
WHY IS OUR FOOD BEING MADE AND MODIFIED BY THE WORLD'S LARGEST PESTICIDE MANUFACTURERS? http://gmo-awareness.com/all-about-gmos/gmo-defined/
WHY DOES MONSANTO SUE FARMERS WHO SAVE SEEDS? OWNING THE SEEDS OF LIFE http://sco.lt/7xzzFJ
April 23, 2013 – The South African Civil Society Information Service
IS AFRICA ABOUT TO LOSE THE RIGHT TO HER SEED? Seed and the control of seed lies at the heart of agriculture. In Africa around 80% of seed comes from local and community saved seed resources. This seed is adapted to local conditions. It forms an integral part of community food security and agricultural integrity. This entire traditional system is now under threat.
A broad front of commercial interests, aided and abetted by the World Bank, the American Seed Association and government agencies, along with front groups, academics and so-called philanthropists, are endeavouring to alienate this crucial resource. The international seed industry, owned by massive multinational pesticide companies involved in promoting hybrid and genetically modified (GM) seed, is both a primary beneficiary and protagonist of this thrust. While the motivation is ostensibly to assist the development of African agriculture, the impacts will be widespread and dire. http://www.sacsis.org.za/site/article/1638
ANOTHER OPTION:
February 12, 2013 Share The World' Resources
ON SEED FREEDOM AND SHARING http://www.stwr.org/food-security-agriculture/on-seed-freedom-and-sharing.html
PURSUING THE PROMISE OF PERENNIAL GRAINS http://ensia.com/articles/pursuing-the-promise-of-perennial-grains/April 4, 2013 – Yes Magazine
When the dwindling number of farmers who stayed on the land gave up on saving seeds and embraced hybridization, genetically modified organisms, and seed patents in order to make money, we became slaves to multinational corporations like Monsanto and Syngenta, which now control our food supply…. http://www.yesmagazine.org/issues/how-cooperatives-are-driving-the-new-economy/why-the-most-powerful-thing-in-the-world-is-a-seed?utm_source=apr13yn&utm_medium=email&utm_campaign=titleMostPowerfulThingSeed
——————————–WATCH———————————–
WATCH: Vandana Shiva: CORPORATE MONOPOLY OF SEEDS MUST END http://www.scoop.it/t/agriculture-gmos-pesticides/p/2920670940/vandana-shiva-corporate-monopoly-of-seeds-must-end
WATCH: Vandana Shiva
"THE FUTURE OF FOOD" Part 1, 2, 3
http://southweb.org/lifewise/gmo-patents-turn-farmers-saving-seeds-into-thieves-vandana-shiva/
WATCH: "MONSANTO FOOD WARS: GMO SEEDS AND ANIMALS" http://www.scoop.it/t/agriculture-gmos-pesticides/p/3997411054/watch-monsanto-food-wars-gmo-seeds-and-animals
WATCH: MONSANTO AND THE SEEDS OF SUICIDE http://sco.lt/84jT17
WATCH: "GENETIC ROULETTE – THE GAMBLE OF OUR LIVES" – YouTube 1:24:59 https://www.youtube.com/watch?v=GrWRzxMUfDE
WATCH: MONSANTO FOOD WARS: GMO SEEDS AND ANIMALS – YouTube http://ow.ly/jeIKu
WATCH: THE WORLD ACCORDING TO MONSANTO (FULL LENGTH) The Leader of the Biotech Cartel http://sco.lt/7FFsXZ
WATCH: A SYSTEM BASED ON PROFITS IS UNSUSTAINABLE ….Vandana Shiva on Industrial Agriculture http://www.scoop.it/t/agriculture-gmos-pesticides/p/1614565249/a-system-based-on-profits-is-unsustainable-vandana-shiva-on-industrial-agriculture
WATCH:
+++THE WORLD ACCORDING TO MONSANTO (FULL LENGTH) THE LEADER OF THE CHEMICAL BIOTECH CARTEL http://sco.lt/7FFsXZ
—–MORE ON SEED PATENTS —–
OWNING THE SEEDS OF LIFE PATENTS: HOW MONSANTO OUTFOXED THE OBAMA ADMINISTRATION http://sco.lt/8OMWHZ
— FOOD SAFETY GROUP CALLS FOR COURT TO LIMIT GMO SEED PATENTS http://sco.lt/6BGF7p
— RECLAIMING THE SEED: THE FIRST LINK IN THE FOOD CHAIN http://sco.lt/76218j
— "BITTER SEEDS" Film Trailer: MONSANTO, GMO SEEDS AND INDIAN FARMER SUICIDES http://sco.lt/5F90Mr
— GENETICALLY MODIFIED CROPS NOT THE SOLUTION FOR "FEEDING THE WORLD" http://sco.lt/77BuML
— CANCER OF CORRUPTION, SEEDS OF DESTRUCTION: THE MONSANTO GMO WHITEWASH http://www.scoop.it/t/agriculture-gmos-pesticides/p/3826752991/cancer-of-corruption-seeds-of-destruction-the-monsanto-gmo-whitewash
March 27, 2013 TruthOut
MONSANTO'S DEATH PATENTS http://www.truth-out.org/opinion/item/15267-monsantos-death-patents
May 11, 2013 Focusing on Wildlife
CONSERVATION GROUP SEEKS ASSURANCE THAT WILD BIRD SEED PRODUCTS ARE PESTICIDE (AND GMO) FREE http://focusingonwildlife.com/news/conservation-group-seeks-assurance-that-wild-bird-seed-products-are-pesticide-free/?utm_source=rss&utm_medium=rss&utm_campaign=conservation-group-seeks-assurance-that-wild-bird-seed-products-are-pesticide-free
BATTLE FOR THE BEES: Dying Bees Raise Alarm For Humans – Europe Bans Pesticide http://sco.lt/8QOFgv
See on www.yesmagazine.org